Bruce D. Desfor, Esq.
Founder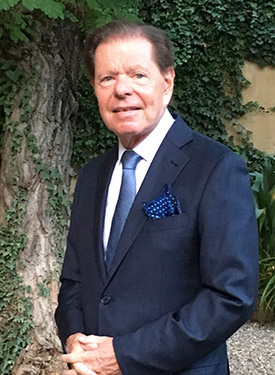 July 29, 1939 (Brooklyn, NY) – February 9, 2022 (Florence, Italy)
Our values are firmly rooted in the legacy of our firm's founder, Bruce D. Desfor, Esq.
A graduate of Temple University, Mr. Desfor attended Temple University Law School at night while working as a teacher during the day. While there, he served as the Case Note Editor and Executive Director of the Temple Law Quarterly. After earning his law degree in 1965, he quickly distinguished himself as a successful associate at a prestigious Harrisburg law firm. After just one year with the firm, in 1967, he left to establish Meyers & Desfor alongside I. Emmanuel Meyers, a well-known Harrisburg attorney at the time.
Practicing in family law as well as personal injury law, Bruce was known as a brilliant litigator, strategist, and negotiator, as well as a skilled and aggressive opponent in the courtroom. During his career, he held a series of committee chairmanships and offices for the Pennsylvania Trial Lawyers Association, where he also served on its Board of Governors and as its President (1981-82).
At the American Association for Justice, he served as chairman of various committees and as a member of its Board of Governors. Mr. Desfor was also elected a Fellow of the American Academy of Matrimonial Lawyers, the only Pennsylvania attorney to be President of the Pennsylvania Trial Lawyers Association and a Fellow of the Academy.
Some of his other achievements include serving as President of the Dauphin County (PA) Young Lawyers Association (1974-75) and serving as chairman on the Committee on Prepaid Legal Insurance, Dauphin County Bar Association (1975). He also served as a member on the Minor Judiciary Education Board, Commonwealth of Pennsylvania, Dauphin County Chapter (1971-72), and as its chairman from 1976-80. In 1993, he earned nationwide distinction when he was listed in "Best Lawyers in America" (Seaview/Putnam), in the category of Domestic Relations, and relisted in the 1995 thru 1998 editions. He was also named chairperson of the Pennsylvania Bar Association' Legislative Committee on Family Law (1993-94) and had the honor of testifying for the Pennsylvania Legislature on No Fault Divorce.
Among his numerous accomplishments, Mr. Desfor considered one of his most significant to be his work in organizing the Smithsonian Institute's "Festival of Trial Lawyers" with the American Association for Justice. Held in Washington, D.C., the event has been attended by several million visitors.
A Love For Mentoring
Alongside his own professional achievements, Mr. Desfor was passionate about the development and success of others in the field. He trained and mentored many young lawyers, and he took great pride in his many associates who went on to establish their own successful law firms.
He was a teacher at heart, always eager to share his knowledge and insights with others. He lectured nationally and internationally in the fields of personal injury and domestic relations. He was also an author and lecturer for the Pennsylvania Institute of Legal Medicine, American Association for Justice, PA Trial Lawyers Association, the Pennsylvania Bar Institute, and others.
Mr. Desfor was also active in community work, serving in leadership positions with various Harrisburg service organizations.
A Zest For Life
Bruce had a larger-than-life personality and a competitive spirit. An avid runner and sportsman, Bruce competed in several marathons, and he enjoyed skiing, hiking, deep sea fishing, and traveling. He loved to learn new things and was always up for a challenge. In middle age, he obtained his captains license to pilot his yacht, "The Proper Lady."
Bruce was incredibly passionate about life and living fully. He even left the practice of law at the height of his career to enjoy it with the love of his life and wife of 43 years, René. After retirement, he became fluent in Italian, and he and René spent time between their homes in Florence, Italy, and Florida.
Those who knew Bruce enjoyed his sense of humor and sharp wit. He was outspoken and confident, but also warm, loving, and loyal. Always well-dressed and dignified, we will remember him as a true gentleman with an invincible spirit.
Achievements
Bar Admissions
• Pennsylvania, 1965
• U.S. District Court Eastern District of Pennsylvania, 1965
• U.S. District Court Western District of Pennsylvania, 1965
• U.S. District Court Middle District of Pennsylvania, 1965
• U.S. Court of Appeals 3rd Circuit, 1965
Education
• Temple University School of Law, Philadelphia, Pennsylvania, 1965 LL.B.
• Law Review: Temple Law Quarterly, Casenote Editor, 1963
• Law Review: Temple Law Quarterly, Executive Director, 1964
• Temple University, Philadelphia, Pennsylvania LLB
Classes/Seminars Taught
• Lecturer, Personal Injury and Domestic Relations
• Lecturer, PA Institute of Legal Medicine
• Lecturer, American Association for Justice
• Lecturer, PA Trial Lawyers Association
• Lecturer, Pennsylvania Bar Institute
Honors and Awards
• "Super Lawyer" – Top Attorneys in PA, 2006, 2008, 2009, 2010
• "Best Lawyers in America", Domestic Relations, Steven Naifeh and Gregory White Smith(Seaview/Putnam), 1983
• "Best Lawyers in America", Domestic Relations, Steven Naifeh and Gregory White Smith(Seaview/Putnam), 1995 – 1998
• Fellow, American Academy of Matrimonial Lawyers
• Fellow, Pennsylvania Trial Lawyers Association
• Association for Justice, "Festival of Trial Lawyers", Smithsonian Institute in Washington, D.C.
• Past President, PA Trial Lawyer Association
Professional Associations and Memberships
• Pennsylvania Bar Association, 1965 – Present
• Dauphin County Bar Association, 1965 – Present
• AAML
Pro Bono Activities
• Mid-Penn Legal Services / Dauphin County Bar Association, 1965 – Present