Bruce D. Desfor, Esq.
Founder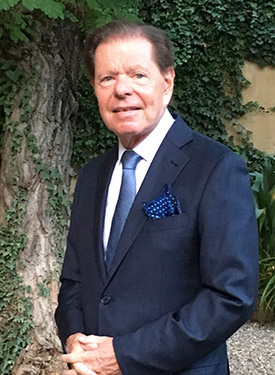 Listed in "Best Lawyers in America", in the category of Domestic Relations, compiled by Steven Naifeh and Gregory White Smith (Seaview/Putnam, 1983, and relisted in the 1995 thru 1998 editions). Served as President of the Pennsylvania Trial Lawyers Association 1981-82, after a series of committee chairmanships and offices. Served as chairman of various committees of the American Association for Justice and as a member of its Board of Governors. He was elected a Fellow of the American Academy of Matrimonial Lawyers, the only Pennsylvania attorney to be President of the Pennsylvania Trial Lawyers Association and a Fellow of the Academy.
Mr. Desfor has lectured nationally and internationally in the fields of personal injury and domestic relations. He has been an author and lecturer for: PA Institute of Legal Medicine, American Association for Justice, PA Trial Lawyers Association, and Pennsylvania Bar Institute among others.
A significant achievement was his work in organizing, in conjunction with the American Association for Justice, the "Festival of Trial Lawyers" sponsored by the Smithsonian Institute in Washington, D.C. and attended by several million visitors.
Before moving into the Pennsylvania state and national scenes, Mr. Desfor served as President, Dauphin County (Pa.) Young Lawyers Association, 1974-75; as chairman, Committee on Prepaid Legal Insurance, Dauphin County Bar Association, 1975; as member Minor Judiciary Education Board, Commonwealth of Pennsylvania, 1976-80 as chairman, Dauphin County Chapter, 1971-72. He is a graduate of Temple University Law School (Philadelphia), 1965, with the LL.B degree. Served as Case Note Editor, Temple Law Quarterly, then as Executive Director, 1964. Admitted to practice before U.S. District Court and Pennsylvania State Courts, 1965. With I. Emmanuel Meyers, well-known Harrisburg attorney (Deceased – 1970), founded the Meyers & Desfor firm in 1967.
Mr. Desfor was named chairperson of the Pennsylvania Bar Association' Legislative Committee on Family Law for 1993-94, and had the honor of testifying for the Pennsylvania Legislature on No Fault Divorce.
Active in community work, Mr. Desfor has served in leadership positions with various Harrisburg service organizations.
Bar Admissions
• Pennsylvania, 1965
• U.S. District Court Eastern District of Pennsylvania, 1965
• U.S. District Court Western District of Pennsylvania, 1965
• U.S. District Court Middle District of Pennsylvania, 1965
• U.S. Court of Appeals 3rd Circuit, 1965
Education
• Temple University School of Law, Philadelphia, Pennsylvania, 1965 LL.B.
• Law Review: Temple Law Quarterly, Casenote Editor, 1963
• Law Review: Temple Law Quarterly, Executive Director, 1964
• Temple University, Philadelphia, Pennsylvania LLB
Classes/Seminars Taught
• Lecturer, Personal Injury and Domestic Relations
• Lecturer, PA Institute of Legal Medicine
• Lecturer, American Association for Justice
• Lecturer, PA Trial Lawyers Association
• Lecturer, Pennsylvania Bar Institute
Honors and Awards
• "Super Lawyer" – Top Attorneys in PA, 2006, 2008, 2009, 2010
• "Best Lawyers in America", Domestic Relations, Steven Naifeh and Gregory White Smith(Seaview/Putnam), 1983
• "Best Lawyers in America", Domestic Relations, Steven Naifeh and Gregory White Smith(Seaview/Putnam), 1995 – 1998
• Fellow, American Academy of Matrimonial Lawyers
• Fellow, Pennsylvania Trial Lawyers Association
• Association for Justice, "Festival of Trial Lawyers", Smithsonian Institute in Washington, D.C.
• Past President, PA Trial Lawyer Association
Professional Associations and Memberships
• Pennsylvania Bar Association, 1965 – Present
• Dauphin County Bar Association, 1965 – Present
• AAML
Pro Bono Activities
• Mid-Penn Legal Services / Dauphin County Bar Association, 1965 – Present